PARTY TRAYS
Full Pan
(10 x 20 Aluminum Pan)
Serves 15
Half Pan
(10 x 10 Aluminum Pan)
Serves 7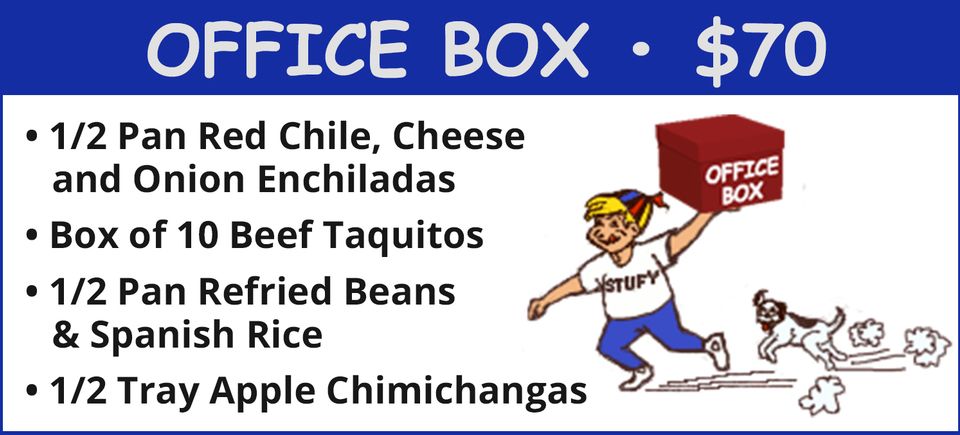 Enchiladas
Red Chile, Cheese and Onion
Full $31.50 • Half $18.50
Green Chile, Cheese and Onion
Full $39.50 • Half $19.75
Red Chile, Beef or Chicken
Full $39.50 • Half $19.75
Green Chile, Beef or Chicken
Full $48.50 • Half $25.50
Meats by the 1/2 Gallon
Carne Adovada
Pork Marinated in Red Chile
$19.00
Chicken
Shredded Chicken with Potato Cubits
$18.00
Side Items
Full $23.00 • Half $13.15
Posole
Seasonal Nov. 15 thru Jan. 15
1/2 Gal $11.90
Tacos
10 Taco Box • Beef or Chicken
$15.15
Tamales
Pork with Red Chile
One Dozen $18.15
Chile Rellenos
Stuffed with Cheddar
One Dozen $18.15
Guacamole Salad
By the 1/2 Gallon
$19.00
Sopaipillas
Cooked or Masa
.55¢ / $6.35
Tortillas
Flour / 10 Inch
One Dozen $5.00
Corn Tortillas
Package of 10 Dozen
$9.00
Shredded Cheese
American 2-1/2 Lbs.
$13.00
Shredded Lettuce
5 Lb. Bag
$6.00
Diced Tomato
Diced by Us / 2-1/2 Lbs.
$13.00
Miscellaneous
Wire Chafing Dishes
Additional $5.00 deposit on each one with a max. deposit of $40.00 per party will be charged. Please return by following business day to collect deposit
For rent with fuel for $5.00 each.
(505) 263-7316
Call Lawrence to Plan Your Orders
Full Service Catering Available Upon Request